'Big creative mess': Creative flair floods Innisfil art exhibit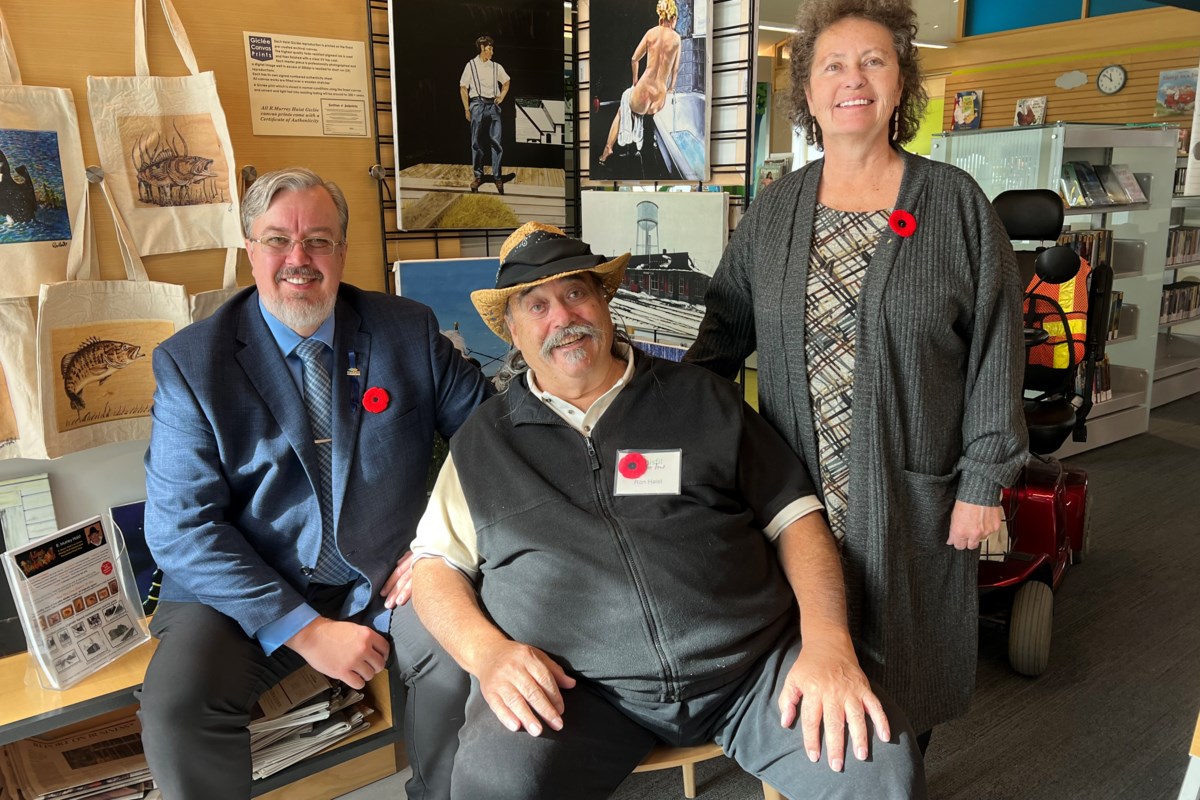 Artwork created by Grade 12 students at Maple Ridge High School in Barrie among the pieces included in the digital slideshow
The Innisfil ideaLAB & Library featured the works of a dozen local artists for the Innisfil Studio Tour this past weekend.
Artists showcased one-of-a-kind artworks, sculptures, paintings, pyrography and jewelry, as well as scarves, clothing, tote bags and greeting cards that put a smile on the face of art lovers. art and donors by browsing the unique items for sale at Innisfil ideaLAB & Library in Alcona and Masonic Hall (Manitoba Lodge) on Queen Street in Cookstown.
"Usually the studio tour includes individual studios and a few group locations," explained Sydney Hardie, president of the Innisfil Arts, Culture and Heritage Council. "The library is so accommodating."
"We are thrilled to support the local art community through the Fall Art Exhibit and Sale," said Erin Scuccimarri, CEO of Innisfil ideaLAB & Library. "As a creative and cultural hub, the library is an ideal venue to showcase our incredibly talented artists and allow our community to engage with culture and the arts in Innisfil."
This year, Hardie and Jeanette Luchese, Vice Chair of the Innisfil Arts, Culture and Heritage Council, were thrilled to incorporate the 2022 Youth Art Exhibit as part of the tour. Artwork created by Grade 12 students from Maple Ridge High School and Banting Memorial High School has been included in a digital art slideshow that will be on display for another week at Alcona branches and Cookstown from the Innisfil ideaLAB & Library.
"It was very exciting to be able to involve them and have them participate. And the schools are just as excited," Luchese said.
Beyond acquiring unique artistic creations over the weekend, the artists generously offered insight into their processes.
"I've always worked in acrylics," said artist Jamie Hardie. "Unlike watercolor or oil, they're really easy because they clean up with water."
Artist Beth Evans works with a Montreal company that transfers her art to textiles, such as scarves, skirts and pillows.
"They use sustainable products, (and) everything is machine washable. It's all made in Montreal too, so they don't ship it overseas, so it's definitely a Canadian product and a great company to work for," she said.
Artist, author and poet Ron Haist said he had been drawing all his life and that pyrography was simply drawing with a hot knife. In addition to his other works, he has been creating beautiful works of art on wood for 14 years.
Diane Kaczmarek, president of the South Simcoe Palette Club, said the artists who gathered in Cookstown were delighted to share their art and expertise.
"It was a very, very good experience. The first time we had a show here was three years ago, just before COVID, and I have to say this year is better. This year we had a lot more traffic (at 4 Queen St)…Sydney Hardie and the folks at the Innisfil Tour, they've been incredibly supportive and I can't praise them enough. They were great with us," Kaczmarek said.
Sydney Hardie says she is thrilled to resurrect the tradition of the Innisfil Studio Tour as it existed before the pandemic. She explained that driving from studio to studio brings a lot of people from out of town, and everyone loves being invited into artists' studios to witness the "great mess of creation."
When she toured the Alcona Library, she said that the Innisfil Fall Art Show and Sale was doing so well that she thought, "Why can't we not have more than one thing a year?
Keen to continue engaging the community while spotlighting local artists, she said, "Maybe we (can) do a studio tour in the fall and an art show in the spring."
Be sure to watch the Innisfil Studio Tour website for advertisements.
"I am always amazed by the talented people who live (in) and call Innisfil their home. It's great to be outside and have this opportunity to come back into the community and immerse myself in the beautiful artwork," said Mayor Lynn Dollin as she checked out the work at the Alcona location. . "Any community is a community, but it's this type of event that makes communities unique."